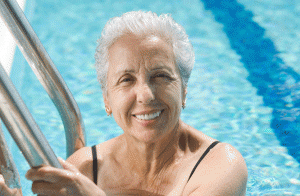 BEGINNERS/IMPROVERS:
Let our qualified teachers help you enjoy your lessons and increase your water confidence. It is never too late to learn to swim. Swimming is not just a great way to exercise, but also an important life skill.
Taught in a friendly welcoming environment designed to help adults learn to swim, overcome their fears and become happy confident swimmers.
Day

Monday

Time

11:15 - 12noon

Start Date

25 April 2022

Finish Date

18 July 2022

Duration

13 weeks

Course Fees:
Gold Members

£79.30

Silver Members

£79.30

Bronze Members

£79.30

Non Members

£98.80
Dates to note:

- Re-enrolment week: W/C 28 March 2022

- Last week of classes for present term: W/C 4 April 2022

- New swimmers may book: Monday 11 April 2022 onwards