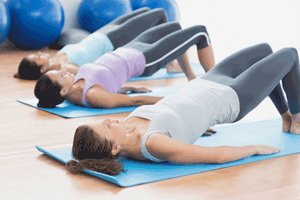 Are you looking for a combined mind and body health improvement?
Vinyasa Yoga combines the following benefits for an effective Yoga session:
Core Strengthening
Stress Reducing Postures
Cardio Benefits
Flexibility Guarantees
Inner/Mind Stillness
Ideal for both men and women, this session synchronizes the breath with movement and music alongside a flow of postures with no two weeks being the same.
Rebecca Hobbs delivers a relaxed atmosphere, suitable for all levels of fitness and those new to Yoga, with Vinyasa Yoga being a great foundation for a strong mind and body in 2019.
| | | |
| --- | --- | --- |
| | Course One | Course Two |
| Day | Monday | Monday |
| Time | 6.00pm - 7.15pm | 6.00pm - 7.15pm |
| Start Date | 6 January 2020 | 2 March 2020 |
| Duration | 5 weeks | 5 weeks |
| | | |
| Course Fees: | | |
| Gold Members | £20.00 | £20.00 |
| Bronze Members | £25.00 | £25.00 |
| Non Members | £30.00 | £30.00 |